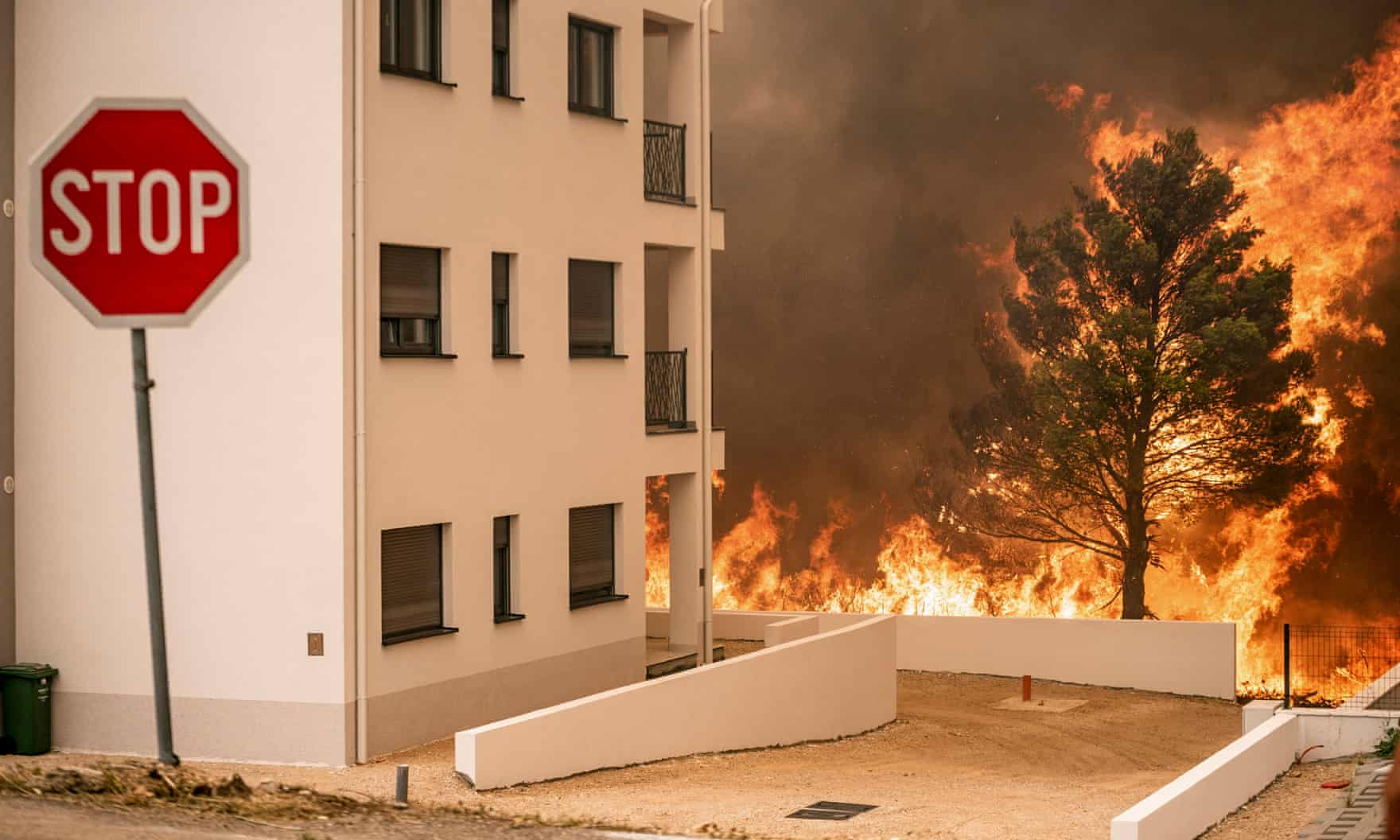 Algeria: At least 34 people were killed, where 8,000 firefighters battled blazes across the tinder-dry north. Fires burned in a total of 15 provinces, leading to the evacuation of more than 1,500 people from their properties. The Algerian online news site TSA quoted the National Meteorological Office as saying temperatures had reached 50˚C (122˚F) in some regions.
Tunisia: Blazes have been especially fierce in the north-western Tabarka region.
Italy: Hit by violent storms and wildfires. At least seven people were killed on Tuesday after storms in the north and wildfires in Sicily. Milan residents reported torrential rain and hail, which flooded streets and uprooted trees, some of which fell on to parked cars. While the north was drenched, the heatwave across the south persisted, with temperatures of 47.6˚C (117˚F) recorded in the eastern Sicilian city of Catania. Italian firefighters said they tackled nearly 1,400 fires between Sunday and Tuesday, including 650 in Sicily and 390 in Calabria.
Greece: Particularly hard hit this summer, with authorities evacuating more than 20,000 people in recent days from homes and resorts in the south of the holiday island of Rhodes.
France: Nearly 100 firefighters were trying to contain a wildfire in the municipalities of Cagnes-sur-Mer and Villeneuve-Loubet, close to Nice international airport. More than 300 firefighters were battling to contain fires near the city of Arles.
Croatia: Winds were so strong that firefighting aircraft could not take off. Firefighters battled wildfires that were spreading just south of the Adriatic city of Dubrovnik.
Montenegro: Two people drowned and several were injured when strong southern winds hit the coast.
Spain's island of Gran Canaria: A rapidly spreading wildfire prompted authorities to remove several hundred villagers, shut three roads and deploy firefighting helicopters.
Portugal: Hundreds of firefighters scrambled to put out flames near the popular holiday destination of Cascais, with strong winds complicating efforts. Portugal is under a widespread drought affecting 90% of the country.
Turkey: a hospital and a dozen homes were evacuated as a precaution in the coastal town of Kemer, where firefighters for a third day battled a blaze raging through a woodland. At least 10 planes, 22 helicopters and hundreds of firefighters were deployed to extinguish the fire.