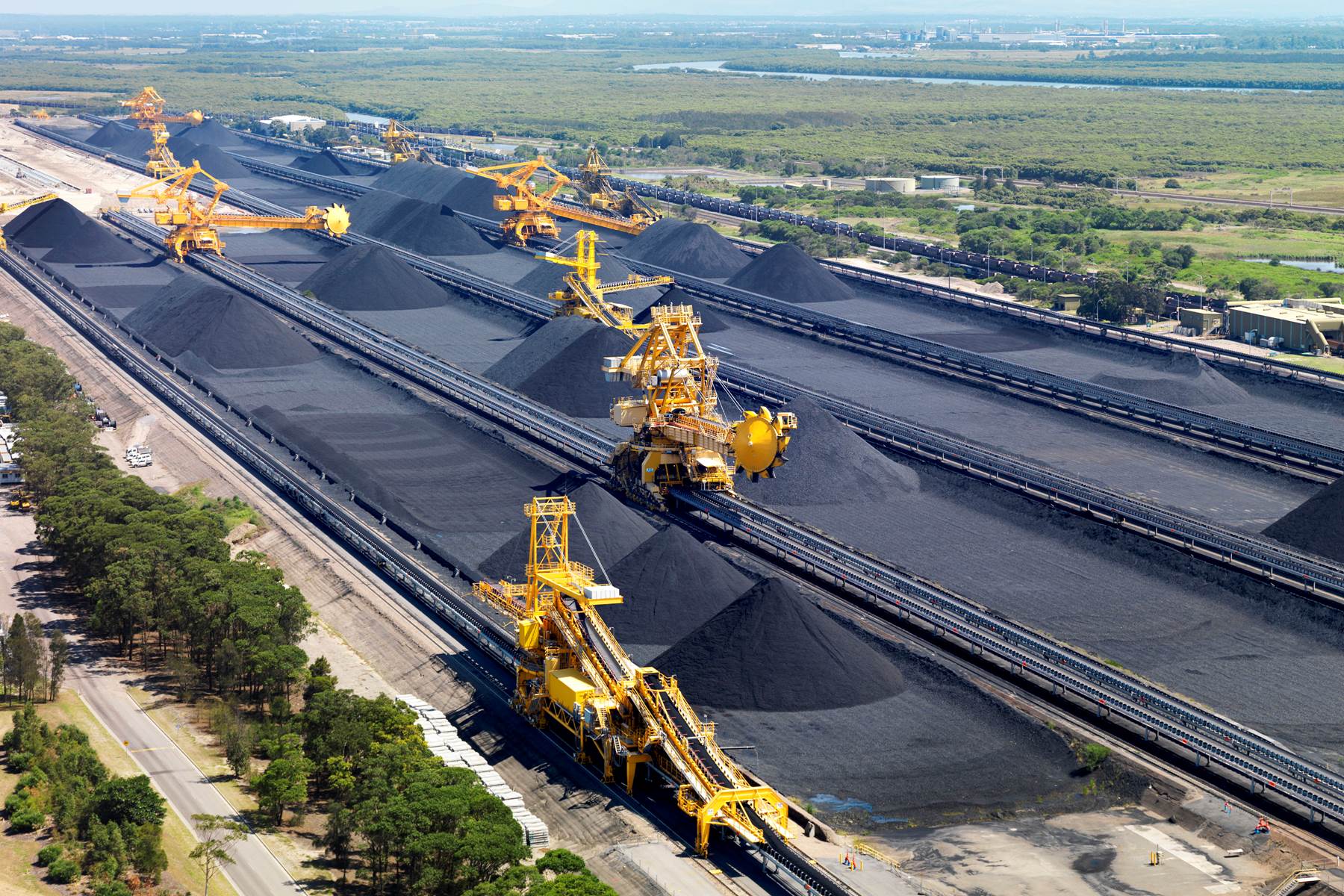 Although the UN's climate treaty accounts for carbon emitted from fossil fuel exports within the country of the fuel's consumption, Australia bears the moral responsibility for placing fossil fuels on the international market. This is the same manner in which a meth-cook is responsible for supplying a market: both result in short-term gain, long-term ruin, because as long as fossil fuels are sold, they will be burned. Shown here is that Australia's fossil fuel energy exports as a share of national export value, and on a global scale, are massive and amount to a carbon-bubble.
The climate impact of Australia's fossil fuel (coal, oil, gas) exports ranks behind only Russia and Saudi Arabia exports in terms of global emissions, according to a major new report from the Australia Institute Climate & Energy Program.
The new research also finds that in absolute terms Australia is the world's fifth largest miner of fossil fuels, ranking behind only China, USA, Russia and Saudi Arabia. On a per capita basis, Australia is on par with Saudi Arabia.

New Analysis: Australia Ranks Third for Fossil Fuel Export2.
The quality of Australian healthcare, education, defence and infrastructure is maintained by income from these exports. The voting population prospers and votes for more, while ignoring that their prosperity is being stolen from young and future generations, who are left worsening climate impacts and the massive burden of carbon dioxide removal3.
Fossil fuels exports in 2017-18 were 24.3% of Australia's total export value4. Thermal and metallurgical coal was Australia's second largest export at 15% share of total export value (the largest was iron ore at 15.2%), liquified natural gas (LNG) 7.7% and crude oil 1.6%4.
Note –
metallurgical coal, per tonne, causes an equivalent quantity of CO2 to be emitted as thermal coal5.
By volume, in 2019 Australia became the world's largest exporter of LNG8.
In 2016, $AUD124.2 million was spent on coal exploration in Australia10, and $AUD1.4 billion was spent on oil and gas exploration11.
The Australian federal government's priorities are blatant and contradictory to the interests of young Australians –
The outlook for the Australian resources sector is bright.
By 2030, Asia will produce more than half of the world's economic output; consume 40 per cent of its energy; and be home to a middle class of almost 3.5 billion people((https://www.industry.gov.au/data-and-publications/australias-national-resources-statement/the-australian-resources-sector-significance-and-opportunities)). By virtue of our geographic location, abundant reserves of resources, skilled workforce and strong mining services sector, Australia is well positioned to be a key supplier for the region.

Demand will increase in both traditional commodities, such as coal, iron ore, liquefied natural gas (LNG), base metals, such as copper and nickel, and emerging minerals, like lithium and rare earths which have many applications for the digital age (Table 1).

The Australian resources sector – significance and opportunities, published by the Australian federal government in 201915.
The development of the east coast coal seam gas (CSG) industry is a recent example of the development of a new national wealth centre. The development of the CSG industry in Queensland led to more than $60 billion being invested in three new LNG export projects at Gladstone over the last decade—conservatively equivalent to 20 – 25 per cent of the Queensland economy around the time the projects were commissioned15.

There are several areas where this is again possible, including:

• The Beetaloo Sub-basin in the Northern Territory which has a world-class shale gas resources and is home to more than three quarters of Northern Territory's perspective shale gas resources.

• The Galilee Basin in Queensland which has more than 29 billion tonnes of coal reserves identified following a boom in greenfield exploration. The Galilee Basin could also contain significant reserves of gas.

• The Great Australian Bight which is one of Australia's largest frontier basins and could have enormous oil and gas potential.

• The Canning and Browse Basins which hold immense oil and gas potential.


The Australian resources sector – significance and opportunities, published by the Australian federal government in 201915.
Does the Australian government participate in international climate negotiations with an aim to prevent climate catastrophe, or to secure the economic value of its fossil fuel exports?
Australia's vast current gas and coal exports, and anticipated expansions of these are detailed below. What proportion of voting Australians are aware of the fossil fuel exports described here, and what proportion feel responsible for the consequences to be faced by their children and grandchildren?
Australia's fossil fuel exports in detail
LNG exports
The astonishing scale of major Australian gas extraction and export projects are detailed below.
Gorgon LNG18
Participants: Chevron, ExxonMobil, Shell, Osaka Gas, Tokyo Gas and JERA.
Largest single resource project in Australia's history, costing $US54 billion16 and producing 15Mtpa (millions of tonnes per annum) of gas (6% of 2015 global trade19). 40 year lifespan and began operating in 2016. Consists of a subsea gas gathering system, onshore LNG plant site, buildings and services, and an offloading jetty.
Gas is extracted from 18 offshore wells using a subsea gas gathering system, instead of offshore platforms. Drilling of the wells was done at depths of over 9km (6mi) beneath the seabed. More then 800km (500mi) of pipeline is laid offshore and onshore. The subsea installation is on the largest in the world with more than 250,000 tons of steel pipe and structures, equalling the weight of three aircraft carriers. The pipe is so strong that it can span 270m (300 yds) unsupported.
The LNG plant site, service buildings and jetty are located on Barrow Island, classified a "Class A" nature reserve with 378 species of native plants, 13 species of mammals and 43 species of reptiles. Here gas is either converted to LNG and offloaded to tankers for export, or supplied to the domestic market.
The jetty rests on 56 concrete caissons each weighing an average of 2,500 tonnes20.
Liquefaction of the gas to compress it involves removing the CO2 that makes up 14%, otherwise it would form a solid. The LNG plant site includes a CO2 sequestration plant that's used to greenwash the Gorgon project.
The amount of steel used in the LNG plant site is more than 4 times that used in the Sydney Harbour bridge. It contains 51 liquefaction modules, each heavier than 3,500 cars and relies on 584MW of power generated onsite from 5 gas turbine modules. These self contained power plants were manufactured in Italy by GE21 and contain a gas turbine (manufactured in France), 10km (6mi) of structural welding, and 19km (12 mi) of electrical cable. Each gas turbine module weighs 2,300 tons, as much as 4 double-decker Airbus jets. These were loaded onto ships and transported 20,000km (12,000mi) to Barrow Island.
At least 1,558 native animals were killed during construction and classified as accidental deaths22.
Gorgon is currently being expanded, spending $US4 billion drilling 11 new wells, expanding the subsea gas gathering system and pipeline23.
The North West Shelf Project24
Participants: Woodside, BHP, BP, Chevron, Japan Australia LNG and Shell.
Cost $US24 billion, produces 17Mtpa for international and Australian domestic markets.
Consists of: (a) Onshore Karratha Gas Plant that compresses gas and offloads LNG to export vessels; (b) North Rankin Complex that consists of North Rankin A and B offshore platforms, joined by two 100m (300ft) bridges; (c) Goodwyn A offshore platform, gas is piped from here over 100km (62mi) to the Karratha Gas Plant; (d) Angel offshore platform, connected to the North Rankin Complex via 50km (31mi) subsea pipeline. Not normally manned and instead operated remotely from the Rankin Complex; and (e) Okha floating oil production vessel, moored and connected to a riser turret which is connected to flexible flow lines from three seabed oil fields.
Crude oil is offloaded from the Okha vessel via a flexible line directly to bulk tankers, while a seabed pipeline exports LPG-rich gas to the North Rankin Complex, before being piped 135km (84mi) to the Karratha Gas Plant.
The North West Shelf Expansion25 is currently underway, aims to exploit six offshore hydrocarbon fields with 8 production wells tied back to Goodwyn A platform via 35km (22mi) long subsea pipeline. Budget was US$2 billion.
The Bayu-Undan26
Participants: ConocoPhillips, Santos, Inpex, ENI, Tokyo Timor Sea Resources, Tokyo Gas, Tokyo Electric and Chibu Electric.
Commissioned in 2006, produces 3.7Mtpa and gas expected to be fully extracted by 2022. Located offshore in the Timor Sea. Australia has delayed to ratify an agreement with Timor Leste for sharing the profits from this gas field 90%/10% between Australia and Timor Leste respectively27.
Gas is extracted and compressed in-situ before being piped to the mainland as LNG. Consists of: (a) two joined offshore platforms forming the Central Production and Processing (CPP) complex; (b) a floating storage and offloading facility 2km (1.2mi) from the CPP; (c) an unmanned wellhead platform 7km (4.4mi) from the CPP; (d) LNG production facility in Darwin ('Darwin LNG') that offloads the LNG onto tankers; and (e) a 500km (311mi) long subsea pipeline connecting the CPP to Darwin LNG.
The Barossa Project28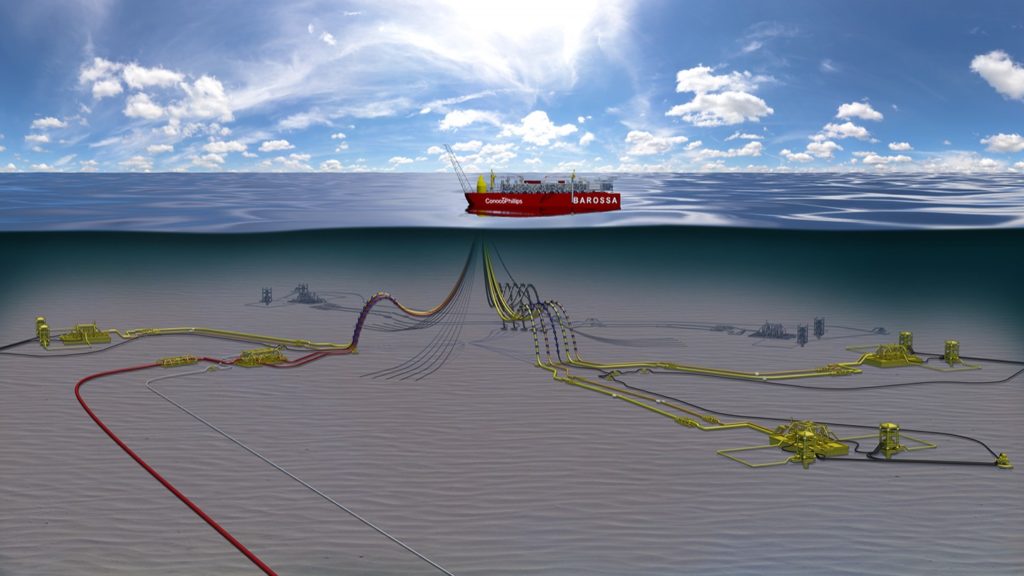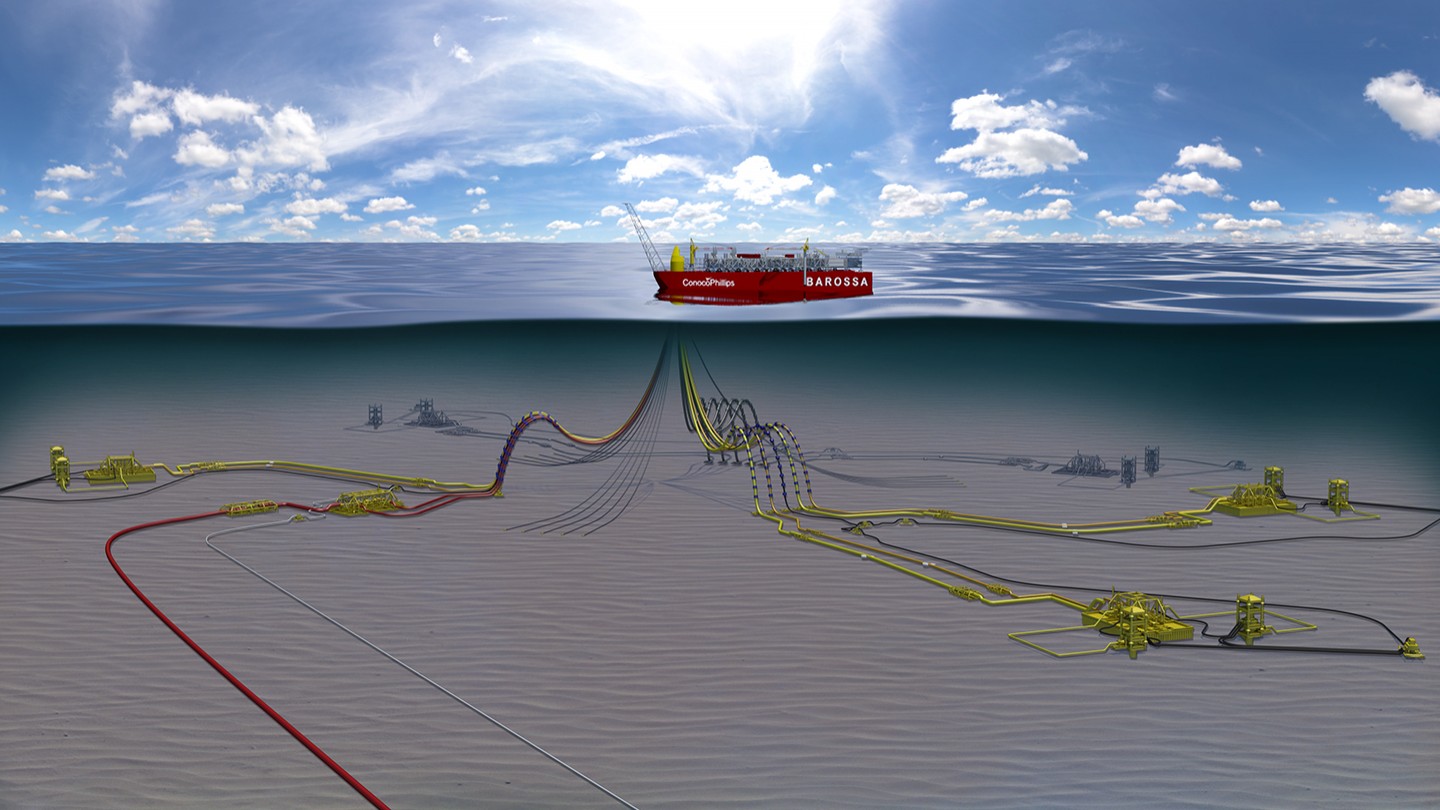 Participants: ConocoPhillips, SK E&S Australia and Santos.
Offshore from Darwin. Being built and will ensure continued operation of Darwin LNG once all gas has been extracted from Bayu-Undan.
Consists of: (a) floating gas extraction, production, storage and offloading vessel; (b) subsea gas gathering system; and (c) a 260km (162mi) subsea pipeline connecting the vessel to Darwin LNG.
Curtis Island LNG29
Participants: Shell, China National Offshore Oil Corporation,Tokyo Gas, ConocoPhillips, Origin, Sinopec, Santos, Petronas, Total, and Kogas.
Cost $US46 billion, produces 25.3Mtpa. Located on Curtis Island next to the Great Barrier Reef. Produces LNG from coal seam gas for export and the Australian domestic market30.
Pluto LNG31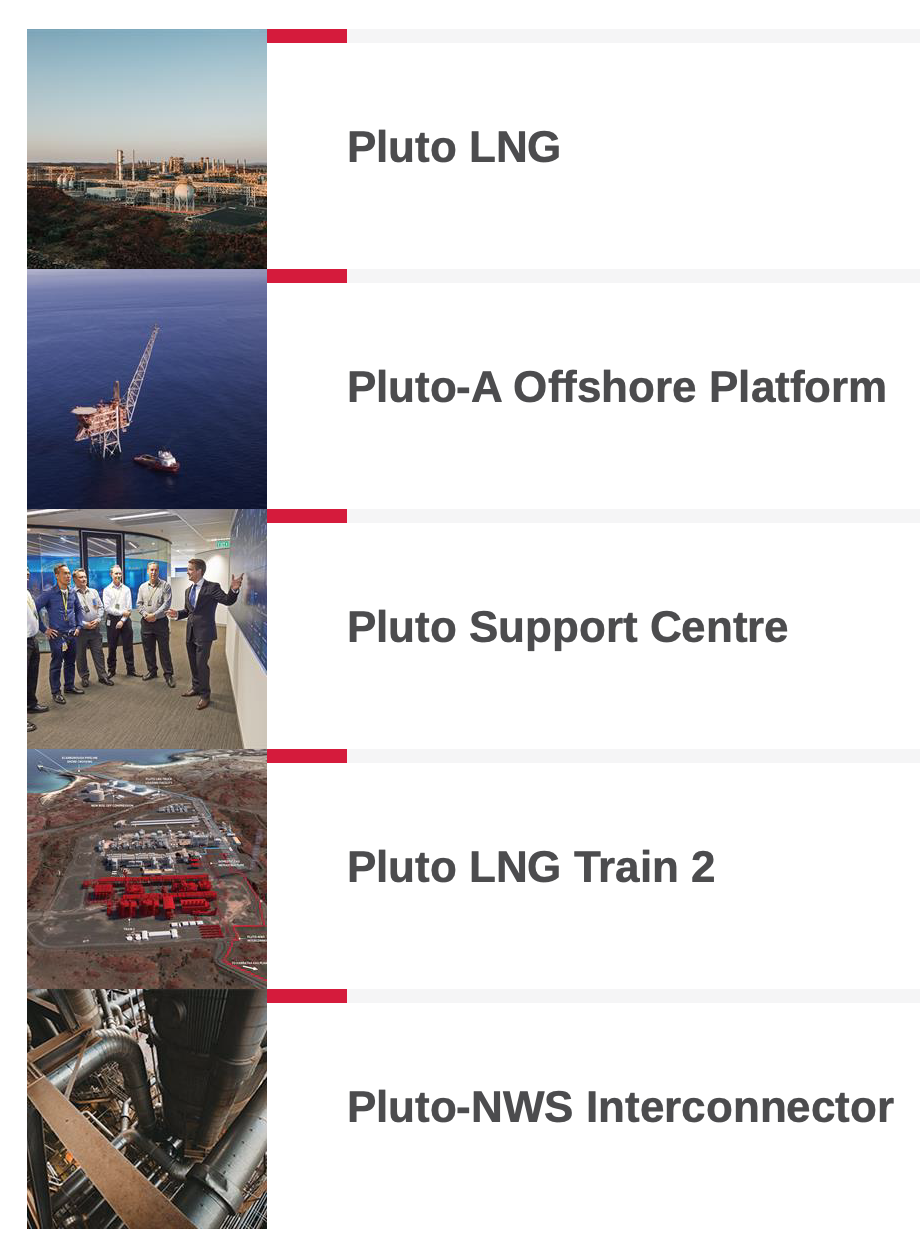 Participants: Woodside, Kansai Electric and Tokyo Gas.
Cost $US11 billion and produces 4Mtpa. Consists of: (a) Onshore Pluto LNG Park gas compression and offloading facility; (b) Pluto-A offshore platform, not normally manned; (c) seabed gas pipeline connecting the two; and (d) Pluto Support Centre in Perth from where remote operations are controlled.
Wheatstone LNG32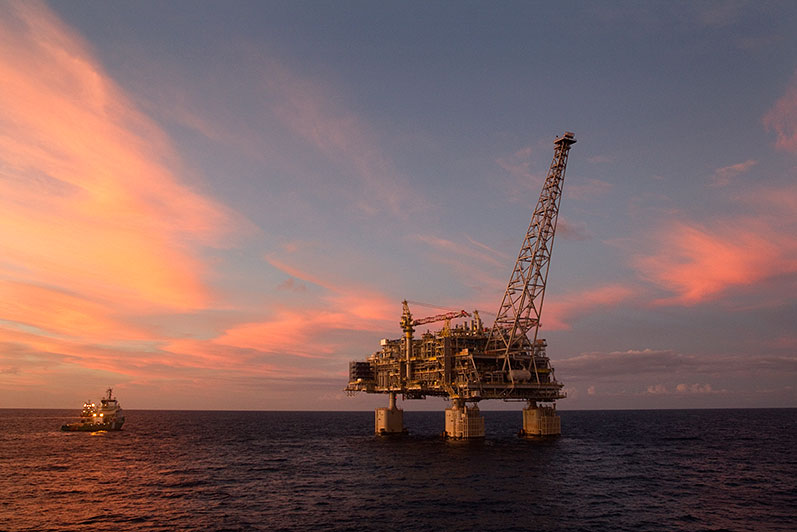 Participants: Woodside, Chevron, Kuwait Foreign Petroleum Exploration Company, Kyushu Electric Power Company and PE Wheatstone.
Cost $US24 billion and is forecast to produce 9Mtpa. Currently being built. Consists of an offshore platform, an onshore processing facility and subsea pipeline.
Greater Enfield33
Participants: Woodside and Mitsui E&P Australia.
Currently being expanded. The Ngujima-Yin floating gas extraction, production, storage and offloading vessel moored above the Vincent oilfield. Will also extract oil from two other oilfields using subsea pipelines 31km (19mi) long.
Prelude FLNG34
Participants: Shell, INPEX, KOGAS and OPIC.
Cost $US13 billion and will produce 3.5Mtpa. Floating liquefied natural gas (FLNG) is a 'revolutionary' technology that will allow Shell to access offshore gas fields that would otherwise be too costly or difficult to develop. Currently being commissioned35.
488m long and 74m wide making it the world's largest FLNG platform. Has thrusters to ensure stability during offloading but no form of propulsion. Will extract gas from 7 wells and employ an onboard team of 120 to 140 people.
Ichthys36
Participants: INPEX, Total, CPC Corporation Taiwan, Tokyo Gas, Osaka Gas, Kansai Electric Power, JERA and Toho Gas.
Cost $US37 billion, over 90% complete and forecast to produce 9Mtpa of LNG, 1.6 Mt of LPG per annum and over 100,000 barrels of condensate per day at peak (various hydrocarbons).
Consists of: (a) Onshore processing and loading facilities near Darwin; (b) Central processing facility (CPF), which is the world's largest semi-submersible platform; (c) nearby floating production, storage and offloading facility (FPSO) for offshore processing of condensate; and (d) 890km (550mi) long subsea pipeline to carry the gas to the shore. This consumed 700,000 tonnes of steel and 550,000 tonnes of concrete.
Coal exports
Thermal coal is primarily used to generate electricity, and may be black (bituminous) or brown (lignite). Metallurgical coal is used to make steel and only black coal is suitable. Australia does not export any brown coal.
The Australian federal government claimed in 2021 that it was the world's second largest exporter of thermal coal, and the largest exporter of metallurgical coal37. The trade of black coal is shown below.
Australia's coal mines are shown in the map below, with operating mines as grey circles, and developing mines as grey triangles. In 2017, Australia had 91 operating black coal mines41.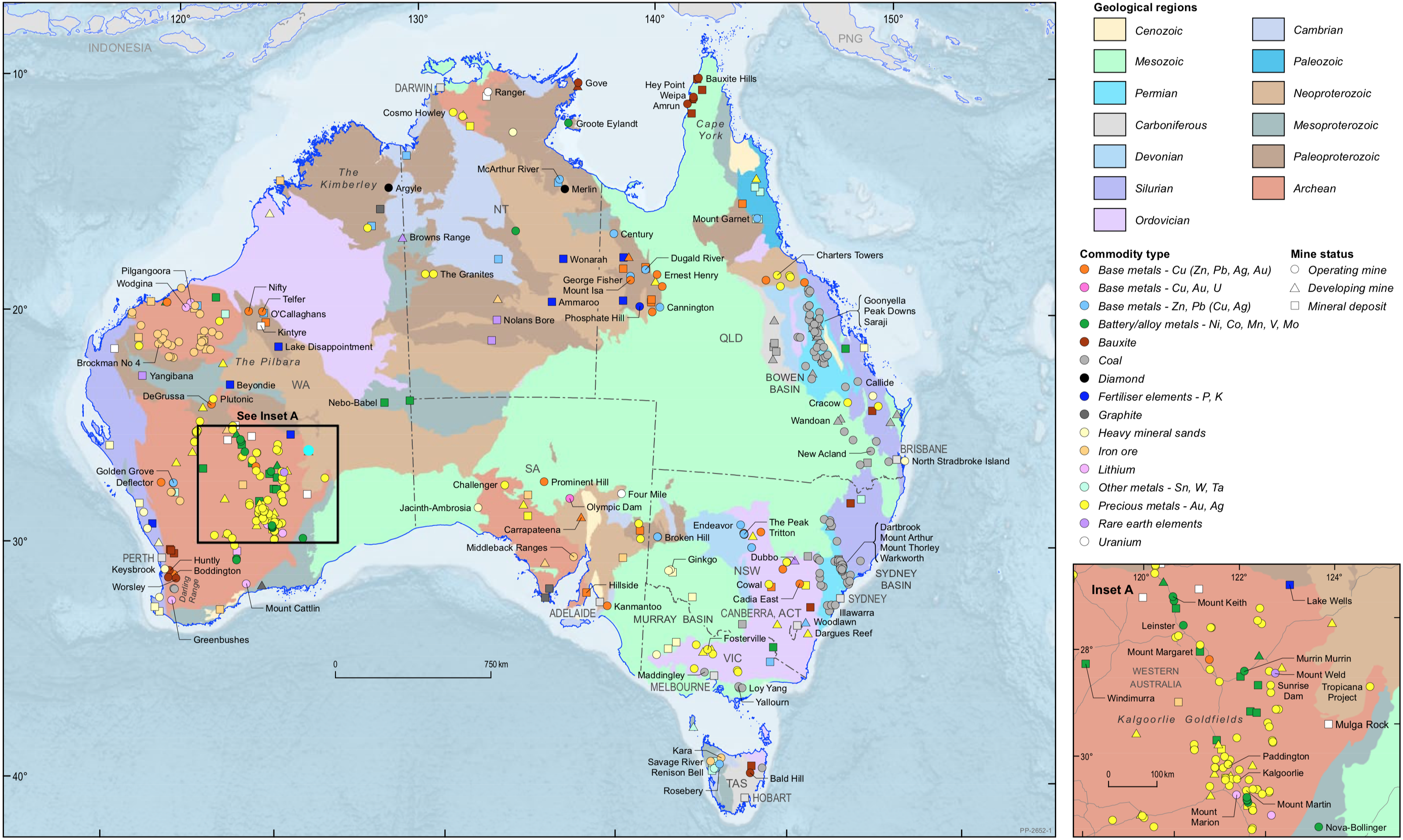 The coal export industry is serviced by ten coal terminals at six ports along the eastern coast of Australia. Port ownership is a combination of public and private interests.

A number of new coal terminal and expansion projects have been completed to increase capacity to approximately 600 million tonnes per annum to meet expected long-term global growth, particularly from China and India.

Minerals and Petroleum in Australia | A Guide for Investors published by the Australian federal government in 201743
Anticipated expansions
Scarborough44
Participants: Woodside Energy.
Final approval granted45.
430 km pipeline to Pluto Train 2 at the existing Pluto LNG onshore facility detailed above.
Approximately five million tonnes per annum (Mtpa) of gas will be processed through Pluto Train 2, with up to 3 Mtpa processed through the existing Pluto Train 1.
Greater Poseidon46
Participants: ConocoPhillips, Origin Energy and PetroChina.
10 gas wells drilled 480km (298mi) offshore.
Athena47
Participants: ConocoPhillips and ExxonMobil.
Gas field 130km (81mi) offshore.
Greater Sunrise48
Participants: Woodside, Timor-Leste, Shell and Osaka Gas.
The maritime boundary between Timor-Leste and Australia intersects this gas field.
During negotiations with Timor-Leste, a whistleblower revealed the Australian government planted 200 covert listening devices in the Timor-Leste Cabinet Office at Dili. In 2018, a new agreement was signed that split profits 80% East Timor, 20% Australia. The Australian government filed criminal charges against the whistleblower and his lawyer. The whisteblower revealed the bugging operation in 2012 after learning Foreign Minister Alexander Downer had become an adviser to Woodside Petroleum, which was benefiting from the treaty. Alexander Downer stated the following about Timor-Leste: "I think they've made a very big mistake thinking that the best way to handle this negotiation is trying to shame Australia, is mounting abuse on our country…accusing us of being bullying and rich and so on, when you consider all we've done for East Timor."49 50 51
Barrup Hub52
Proposal to join Pluto LNG and the North West Shelf project to form a massive LNG extraction, processing and offloading complex.
PARTICIPANTS: Shell
Shell Australia is proposing to develop the Crux gas field offshore. The design consists of a not-normally-manned platform with five wells. The facility will be connected to Prelude FLNG via a 165km (102mi) long export pipeline. A final investment decision on whether to proceed is anticipated in 2020. Crux is expected to have at least a 20-year lifespan.
Carmichael Coal Mine54
PARTICIPANTS: ADANI
Proposed thermal coal mine in the Galilee Basin, planned to be conducted by both open-cut and underground methods. The mine is proposed by Adani Mining, a wholly owned subsidiary of India's Adani Group. The development was initially intended to represent an $AU16.5 billion investment, however, after being refused financing by over 30 financial institutions, Adani announced in 2018 that the mining operation would be downsized and self-funded to $AU2 billion.
The original design for the mine would make it the largest coal mine in Australia and one of the largest in the world.
Exports are intended to leave the country via port facilities at Hay Point and Abbot Point after being transported to the coast via rail. The proposal includes a new 189km (117mi) railway line to connect with the existing Goonyella railway line. Most of the exported coal is planned to be shipped to India55.
Footnotes