All data shown is the most recent available as of August 2020. The most recent year varies with dataset.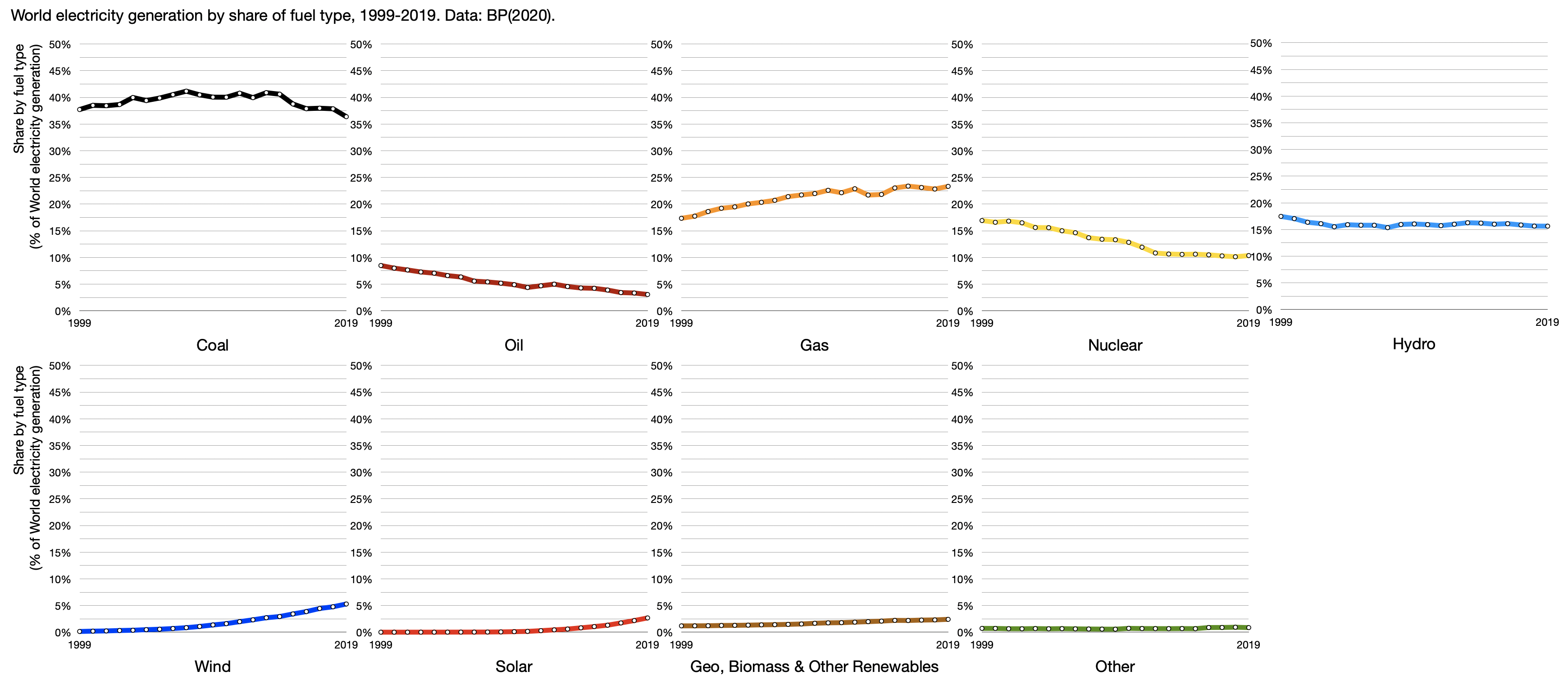 Charts 4 & 5 show annual changes to electricity generation. In 2019, annual electricity generation by fossil fuels reduced for the first time since 2015; the only instances in the past decade. The reduction in 2019 was by an amount equivalent to 59% of the reduction in 2009 during the Global Financial Crisis.3 4
Chart 5 shows this net reduction is attributable to a reduction from coal and oil, as occurred in 2015 and 2009. Additional generation by gas has been relentless.
Annual change of electricity generation is detailed below separately for each fuel type category and fuel type.
Annual absolute values are displayed in the upper rows to help convey the significance of the changes displayed in the lower rows. The pink lines in the lower rows are a five year moving average; any point on these lines is the average annual change of the previous 5 years.
Chart 6 shows expansion of fossil fuelled electricity generation over the past decade slowed, replaced by accelerated expansion of the combination of hydro, wind & solar. Despite this, fossil fuelled electricity generation during 2015-19 increased at an average rate equivalent to almost 60% of the increase of hydro, wind & solar over the same time period, as shown by the pink line in 2019 (i.e. 200TWh/annum / 350TWh/annum =0.57).
Significant changes of individual fuels are listed below and shown in charts 7a and 7b.
Coal
The change of coal fired generation has been volatile since 2008. The 5 year average shows a declining trend that fell to zero over 2015-19, indicating that expansion may have ceased. There is not yet a trend of decline, only one of a decline of expansion.
Gas
Gas fired generation continued to increase, at 80% of the rate of the combination of wind & solar (i.e. 200/[150+100]). This is significant given that gas fired generation had a a 23% share in 2019.
Wind & Solar
During 2017-19, additional electricity generation from wind faltered and that from solar slowed, as shown by the respective charts in the lower-most row.
Footnotes