Published October 2023.
Global Carbon Ranking
► 5th largest coal producer2
► 7th largest gas producer2
► 7th highest fossil fuel producer per capita3
► 9th highest CO2 emitter per capita3
Overall, even as we are moving to a decarbonised energy system, coal and gas will continue to heat our homes and keep manufacturing going for many years to come. In short, if projects involving these traditional energy sources stack up environmentally, economically, and socially, we will support them.

Australian Federal Government to back new fossil fuel projects that 'stack up' economically and environmentally
Fossil Fuel Production
Carbon Dioxide (CO₂) Emissions
Total (Primary) Energy Supply
Total Energy Supply (also known as 'Primary energy') accounts for energy supplied prior to conversions to electricity or hydrogen. For help, see the introduction.
Carbon Intensity
The recent decline of carbon intensity is mainly due to additions of wind and solar electricity, and subtractions of coal fired electricity. Despite this, the value in 2022 still exceeded that of most countries6.
Energy Consumption (i.e. Final Energy)
Final energy accounts the consumption of energy in final forms, and therefore can account for electricity separately from heat (e.g energy consumed for steel manufacture, or by transport). Unlike primary energy, final energy does not rely on calculating equivalences for non-combustible fuels such as solar and wind. For help, see the introduction.
The above pie charts of each year are combined below to show the annual gross world energy consumption of each fuel, showing electric and non-electric energy consumption combined.
Electricity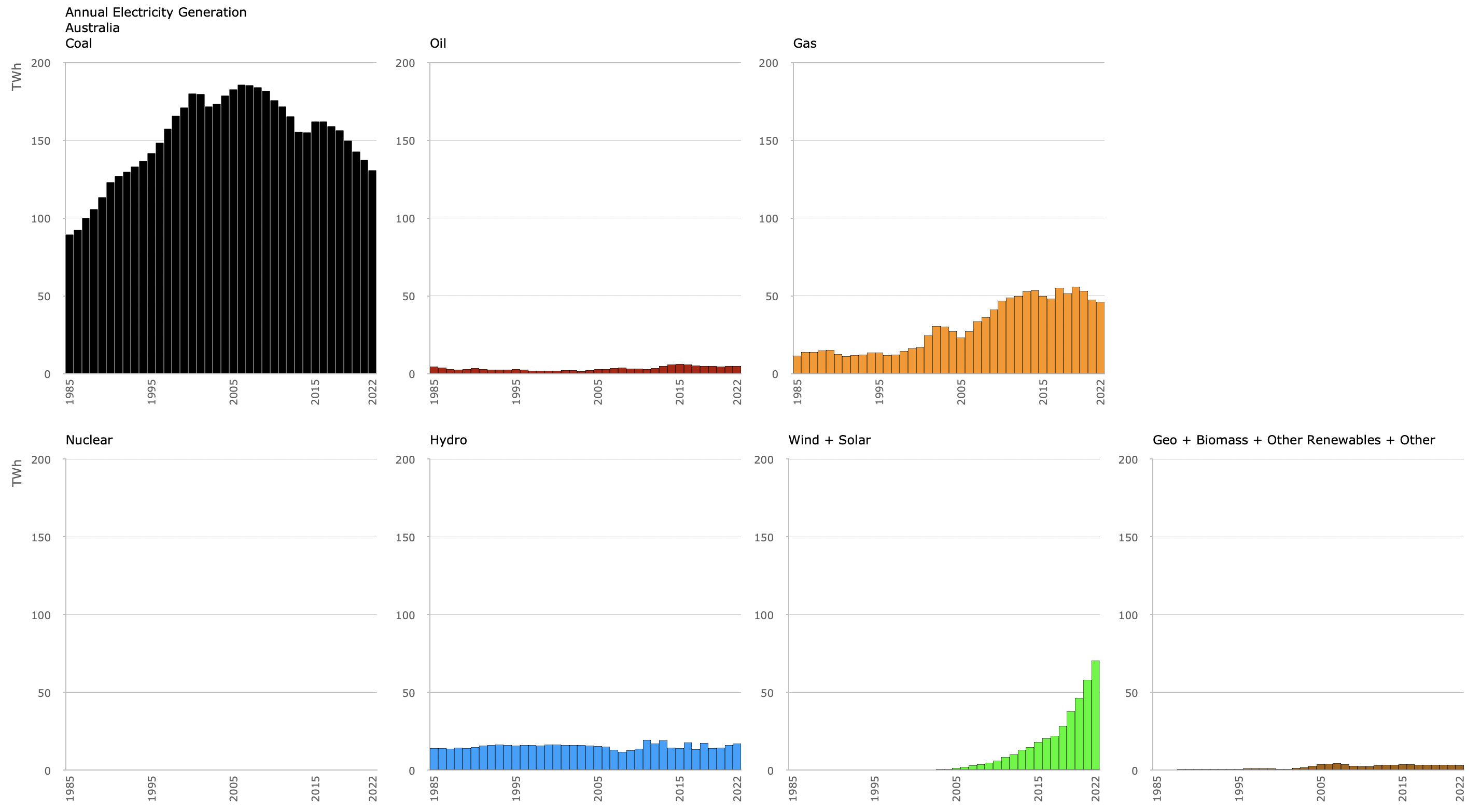 Footnotes