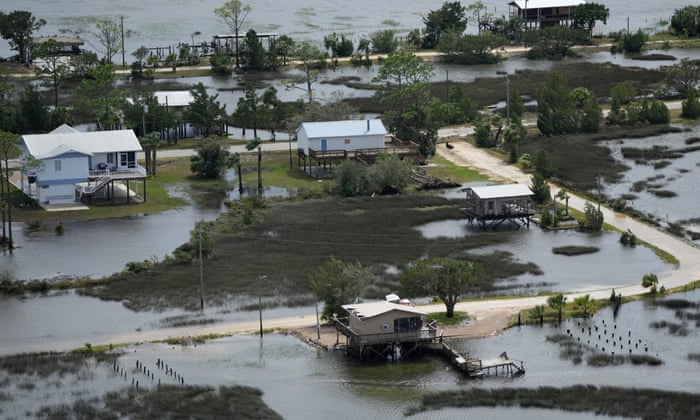 Hurricane Idalia could become the costliest climate disaster to hit the US this year, analysts say, with massive implications for the insurance and risk management industries.
The category 3 storm that barreled into Florida's west coast from the Gulf of Mexico on Wednesday, then carved a path of destruction and flooding through Georgia and the Carolinas, has a preliminary price tag between $9.36bn, based on early estimates, from risk analysts at UBS, and $18bn-$20bn calculated by AccuWeather.
It follows 15 previous "individual weather and climate disasters" recorded in the US already this year by the National Oceanic and Atmospheric Administration (Noaa) as unprecedented heat, wildfires, storms and floods escalate.
Cumulatively, Noaa said that by the end of July, which Nasa said was Earth's hottest month on record, the total estimated cost of the damage caused by the disasters was $39.7bn. That figure does not include the estimated $5.5bn cost to rebuild the town of Lahaina following devastating wildfires that razed the Hawaiian island of Maui this month.
"The costs are becoming unbearable," said Tom Larsen, senior director of insurance solutions at CoreLogic, a property analytics provider that publishes an annual hurricane risk report.
"The business of insuring for catastrophes used to mean exceptional, very rare events and that's not what we're seeing. These are much more common, so something's got to change."
Larsen noted that Hurricane Idalia's strike in a rural and lesser-populated area of Florida, with fewer insured structures, would keep its eventual cost below other major cyclones, such as Hurricane Ian that struck last year and left a $113bn trail of devastation.
But he is concerned about the possible impact on an already fragile insurance market in Florida, which has seen several large providers leave or go out of business in the last two years despite efforts by state lawmakers to make it a more welcoming environment.
Fewer providers means higher premiums to consumers, and the cost of reinsurance, which insurance companies purchase to limit their own exposure, has soared. That cost is also passed on to customers, further fueling the home insurance crisis.
"Recent seasons have demonstrated that hurricane risk can, and likely will continue to, extend further inland, posing threats to millions more homes.