Preface
This site uses data from the IEA1 and BP.2 The latest year of BP's data is 2018, whereas the IEA's is 2017. Despite this, some charts here use IEA data because BP doesn't fully account for solid biofuels, and in some instances doesn't provide adequate detail.
A conventional representation of an energy system is shown below.
The term 'total primary energy supply' (TPES) describes, or accounts for, energy in its primary form prior to any conversions such as coal to electricity, whereas energy in forms purchased and used by the consumer, such as electricity, is accounted for separately as 'total final consumption' (TFC). For simplicity this site uses the terms 'energy supply' and 'energy consumption' respectively. Information about electricity is shown at the bottom of this page.
Energy supplied by renewables (shown as non-combustibles in the above diagram) cannot be directly compared with energy supplied by fossil fuels because renewables have natural forms of primary energy (i.e. sun, wind etc). For example, the quantity of kinetic energy in wind can't be directly measured and compared to the quantity of coal or other combustible fuels. To overcome this, for each renewable energy source, an equivalent quantity of primary energy is determined. This allows the primary energy supplied by both combustible and non-combustible (i.e. renewable) energy sources to be compared. This is conventionally done by calculating for each quantity of renewable electricity, the quantity of primary energy that would be required to be input to a thermal (fossil fuelled) power station of average efficiency, in order to output an equivalent amount of electricity. This method therefore describes the quantity of fossil fuels displaced by renewables, and is explained further in the post About Energy Systems.
World Energy Supply
Driven by higher energy demand in 2018, global energy-related CO2 emissions rose 1.7% to a historic high of 33.1GtCO2.

Global Energy & CO₂ Status Report, IEA.4
World fossil fuel CO2 emissions (i.e. energy related CO2 emissions) are shown below (all sources of CO2 are shown in chart 8 of the post Greenhouse Gas Emissions).
The world energy supply is shown below using BP's data (solid biofuels are not fully accounted for). Note the recent increase of fossil fuels in 2018. Chart 3 shows this was due to the increase in supply of energy from gas. Coal also recently increased and oil continues to relentlessly increase.
Annual changes of world energy supply for years 2000 to 2018 are shown below in chart 4. Charts 2 and 4 combined show that not only does the total energy supplied by fossil fuels continue to dwarf renewables, but the same holds true for the annual growth of these energy sources (excluding years 2014 and 2015). The same can be said of 2009, the year of the global financial crisis, due to the large rebound in 2010. Note the increasing trend of fossil fuels since 2015.
Chart 5 shows the annual percentage change of each energy source. The upper chart shows the rate of change relative to total energy supply for a given year, and the bottom shows the rate of change of each energy supply in isolation (relative to its own previous annual value). Again note the recent rapid increase in the growth of fossil fuels and stalling of the growth of renewables.
Charts 6 and 7 display world energy supply by share, using IEA data which separately lists energy sources.
Numerical values are shown below.
There has been little change over 27 years. The share of fossil fuels reduced from 79.2% to 77.4%, while that of non-hydro renewables grew to 2.9%. Between 2010 and 2017, just the increase of energy supplied by fossil fuels (34.5EJ) was almost double that supplied by non-hydro renewables in 2017 (18.1EJ).
Energy from biofuels and waste consistently grew which is a concern. In 2016, 93% of energy from biofuels and waste was supplied by solid biofuels7 (the remaining 7% was supplied by liquid biofuels, biogases and waste). Of that 93%, about half in 2015 was supplied as dung and wood used for cooking and heating8 by about 2.5 billion people.9 This causes millions of deaths annually, damages health, and inhibits education and development.10 The other half was supplied as wood pellets and wood chips from forests for thermal power stations. The assessment of carbon emissions from this is a mire, distorted by: (i) incorrect carbon-accountancy that assumes solid biofuels are carbon-neutral, (ii) a lack of regulation, and (iii) deceptive marketing by trade associations and biofuel companies (this is explained further in the post Biofuels).
A measure of carbonisation is the carbon intensity of the energy supply, shown below, which is the mass of carbon dioxide emitted per Joule of energy supplied. Carbon intensity in 2015 equalled that in 1995; humanity's most precious years were wasted.
The charts above demonstrate the chasm that exists between a safe climate and business as usual.
World Energy Consumption
As shown in figure 1 above, energy consumption describes energy after conversions. For example, some energy supplied by coal is converted and consumed as electricity, and the rest is instead combusted and consumed in industrial applications (e.g. steel manufacture) and domestic applications (e.g. cooking).
World energy consumption is shown below. Proportions of coal and gas are shown alongside electricity because, as explained above, not all energy from coal and gas is consumed as electricity.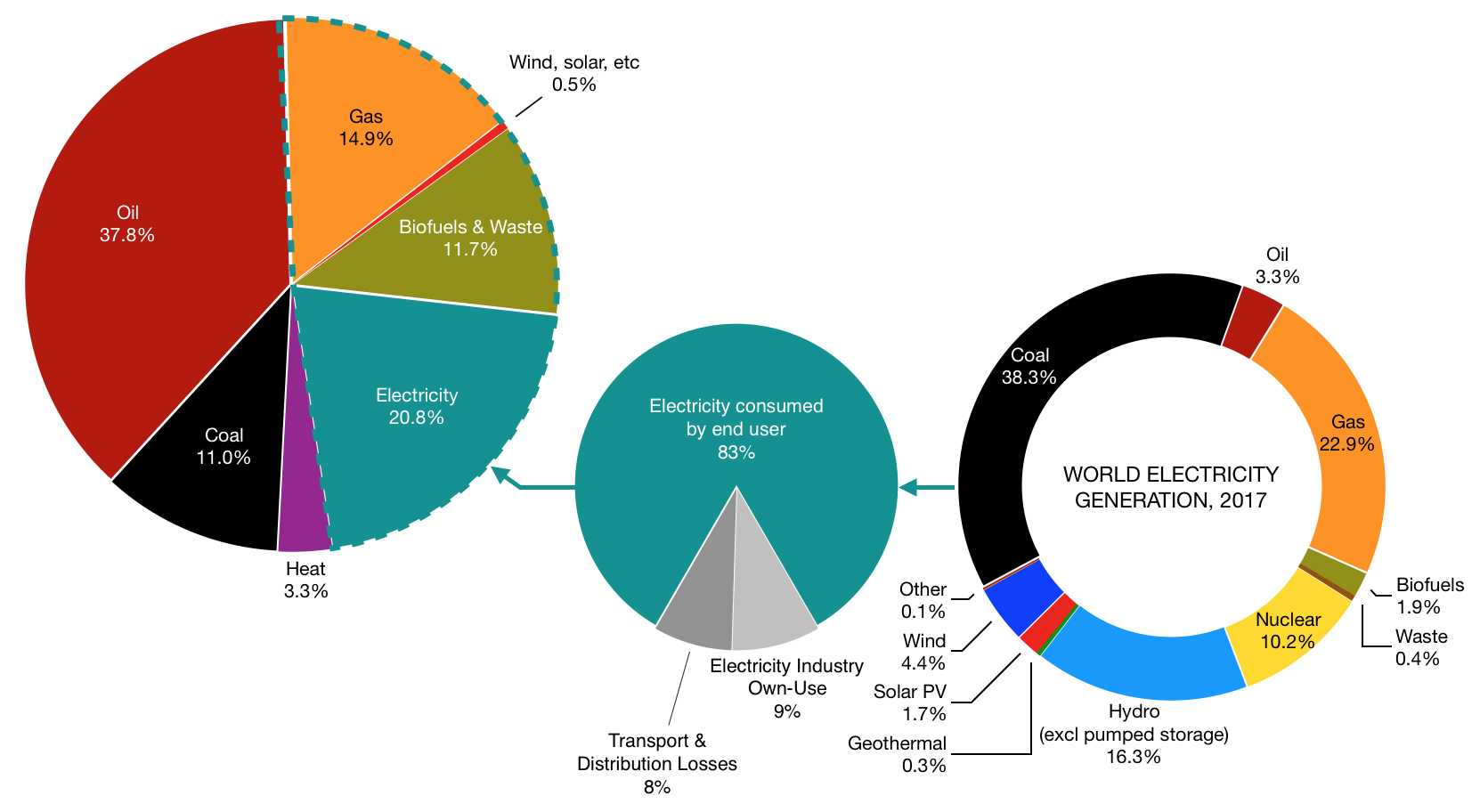 In 2017, the most recent year of free IEA data, almost two thirds of world energy was consumed directly as fossil fuels (63.7%).15 The world consumed almost twice as much energy from oil than it did from electricity, and two thirds of electricity (64.5%) was generated by fossil fuels.16 Only 83% of electricity reached the end-user, with 17% of world electricity consumed by transport of fuels for electricity generation (e.g. coal), electricity distribution, and by the electricity industry.
The following two charts below show the world's energy consumption over time by energy source and by economic sector. Oil clearly dominates chart 10. To 2017 there had not been any non-linear increase in the world's electricity consumption, despite climate change being an existential crisis. Coal consumption was dictated by China's industrial coal consumption, shown in China's energy system profile.

The following charts show energy consumption in each economic sector, with gridlines removed for clarity.
The share of oil in the transport sector in 2017 was 92%, while electricity increased to reach 1%.
Chart 12 shows electricity generation in detail for 2017, with coal clearly the greatest source. Electricity from wind increased to exceed that from oil, but electricity from oil still exceeded that from solar.
Less detailed but more recent data is available from BP, and plotted in the charts below. Chart 13 shows shares of electricity generation in 2018.
Chart 14 and 15 compare world electricity generation for years 2017 and 2018. Although BP classify hydro separately from renewables, it is of course also renewable.

Chart 16 shows the change of electricity generation between years 2017 and 2018. The increase in fossil fuelled electricity generation was 9% greater than that from hydro and renewables combined (457 / (128 + 291) = 1.09).
Summary
The carbon intensity of the world's energy supply in 2015 equaled that in 1995. 20 years was wasted despite international climate negotiations.
In 2017:
the world's energy supply was 77.4% fossil fuelled,
64% of energy was consumed directly as fossil fuels,
20% of energy was consumed as electricity,
65% of electricity was generated by fossil fuels,
electricity in the transport sector accounted for 1% and oil 92%, and
the rate of energy consumption of oil continued its rapid increase.
In 2018:
addition of energy of fossil fuels outpaced that from renewables for the third consecutive year (see chart 3), and
the increase in generation of electricity from fossil fuels was 9% greater than that from all renewables combined.