The concepts presented here are explained in the post Energy Accounting.
CO₂ Emissions

Primary Energy Supply
Every year energy use increases, & most of the increases come from fossil fuels.

Glen Peters, Research Director at Center for International Climate Research.6
The share of fossil fuels reduced from 79% in 1990 to 77% in 2017, and non-hydro renewables grew to 3%. Between 2010 and 2017, just the increase of energy supplied by fossil fuels (34.5EJ) was almost double all that supplied by non-hydro renewables in 2017 (18.1EJ).
Energy from biofuels and waste consistently grew to reach 9.1% of world energy, which is a concern. In 2017, 92% of energy from biofuels and waste was supplied by solid biofuels8 (the remaining 8% was supplied by liquid biofuels, biogases and waste). Of that 92%, about half (or 4.6% of world energy supply) was supplied as dung and wood used for cooking and heating9 by about 2.5 billion people.10 11 This causes millions of deaths annually, damages health, and inhibits education and development.12 The other half was supplied as wood pellets and wood chips from forests for thermal power stations. The assessment of carbon emissions from this is a mire, distorted by: (i) incorrect carbon-accountancy that assumes solid biofuels are carbon-neutral, (ii) a lack of regulation, and (iii) deceptive marketing by trade associations and biofuel companies (this is explained further in the post Biofuels).
A measure of carbonisation is the carbon intensity of primary energy supply, which is the mass of carbon dioxide emitted per Joule of supplied energy. The carbon intensity of the world's primary energy supply in 2015 equalled that in 1995; humanity wasted two precious decades.
Energy Consumption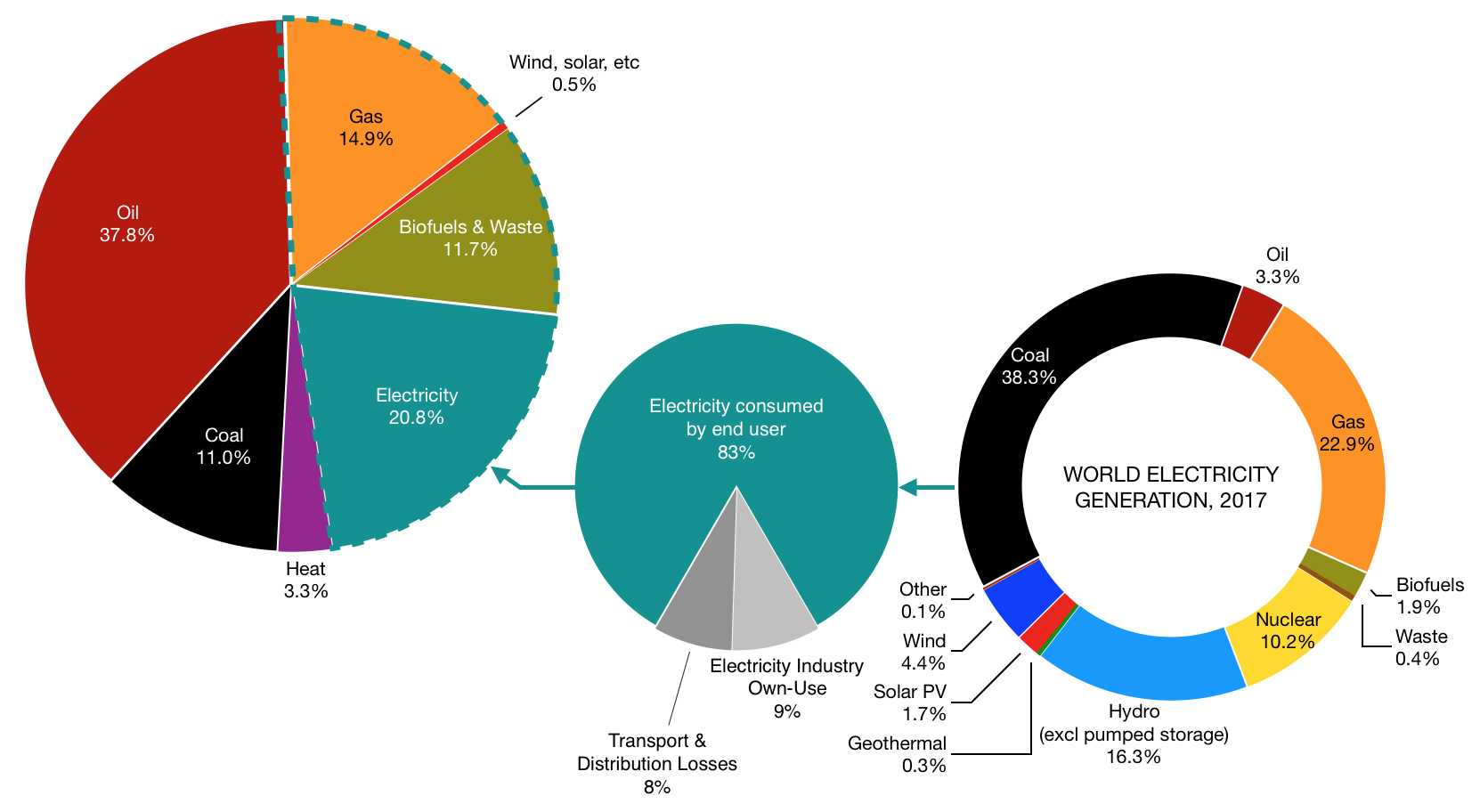 Roughly two thirds of world energy was consumed directly as fossil fuels16 and two thirds of electricity was generated by fossil fuels.17

The share of oil in the transport sector in 2017 was 92%, while electricity increased to reach 1%.
Electricity
Less detailed but more recent data from BP is shown in the following charts.

The increase in fossil fuelled electricity generation was 9% greater than that from hydro and renewables combined (457 / (128 + 291) = 1.09).