All statistics shown are the most recent available as of late 2020, and the most recent year varies with dataset. The IEA's dataset more thoroughly accounts for biofuels, but lags behind BP's by a year.
Total Energy Supply (TES) is the evaluation of energy supplied by fuels in their primary form, prior to any conversions such as coal to electricity. For non-combustible fuels an equivalent is calculated, as explained in Energy accounting.
World TES by share is shown below using BP's dataset. This only partially accounts for biofuels, plausibly excluding fuels not traded on financial markets, such as dung and wood used for residential cooking and heating by about 2.5 billion people.1
The IEA's dataset does fully account for all fuel types, but 2018 is the most recent year of data. The IEA's own method for TES calculations rely on accountancy that relatively enlarges the contribution of nuclear energy, and diminishes that from other non-combustibles.5 This site overcomes this using the same method as that used by BP and explained in Energy Accounting. The results are shown in chart 2.
Annual changes to TES are shown below, firstly during 1999-2019, followed by the full dataset from 1966.
For the first time since 2014, in 2019 additional energy from carbon-free fuels was greater than that from fossil fuels, but only by 9% (i.e. 3.7/3.4 = 1.09). In 2019 the world continued to add significant supplies of fossil fuel energy.
Chart 6 shows that excluding the decline of fossil fuels in 2009 due to the Global Financial Crisis, the last year in which annual additions of hydro, wind and solar outpaced fossil fuels was 1993. In 2019, yet another year passed without this being achieved.

Annual changes to world TES are shown below separately for each fuel category and each fuel type.
Annual absolute values are displayed in the upper rows to help convey the significance of the changes displayed in the middle and lower rows.
The increasing trend of total energy is reflected by that of fossil fuels. The trend of nuclear is relatively constant, and of carbon-free fuels a gradual increase.
Notable changes of fuels are listed below and shown in charts 8a and 8b.
Coal
Declines in 2015 and 2016 were followed by rebounds in 2017 and 2018. The TES value in 2019 was higher than the recent minima in 2016 (158EJ and 156EJ respectively).
Oil and Gas
Oil increased at roughly a constant average rate during the past decade, as did gas apart from the large increases in 2010 and 2018.
Wind and Solar
Wind and solar have short doubling times of 6 and 3 years respectively, but these have increased over the past decade despite having a relatively small share of total energy supply.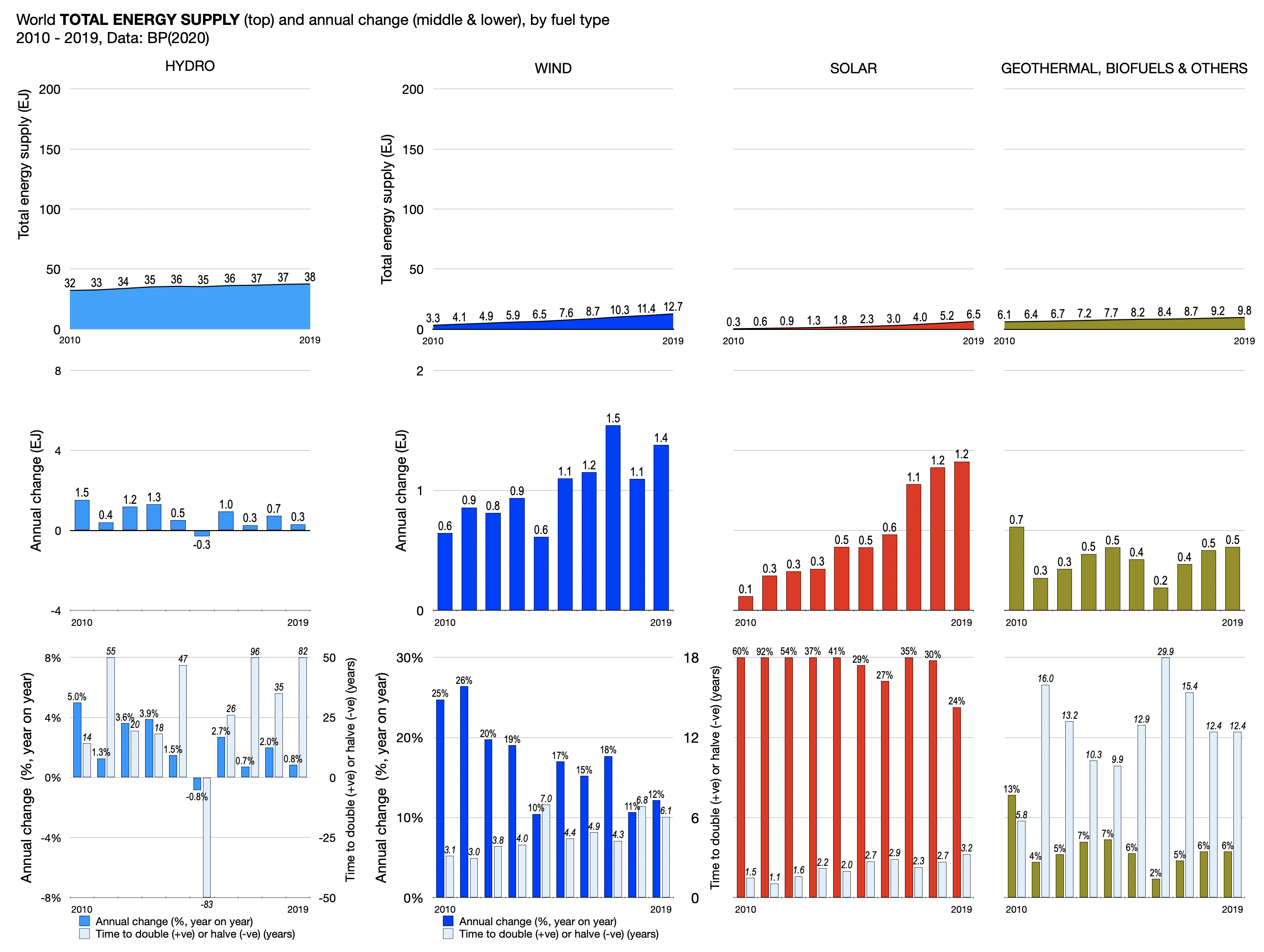 Footnotes