This short page summarises why and how our energy systems must change for a chance of a safe climate. Other pages listed in the Climate Change menu above discuss this in greater detail.
Cumulative carbon dioxide (CO2) determines our long-term warming commitment,1 and almost all is due to our energy emissions.2
[The] remaining carbon budget from 2018 onwards is 580GtCO2 for a 50% chance of keeping warming below 1.5C. This is less than 15 years of global emissions at current rates.

So, what does that mean?

This means that if we start reducing emissions steeply now and by the time we reach net-zero levels we have not emitted more than 580GtCO2, our best scientific understanding tells us have we expect a one-in-two chance that warming would be kept to 1.5C.

Moreover, if we want to be sure that this is also true until the end of the century, we'd have to aim to emit only 480GtCO2 until we reach net-zero instead. This is under 12 years of current emissions.

'A new approach for understanding the remaining carbon budget', Dr Joeri Rogelj, Prof Piers Forster, CarbonBrief.3
Our greatest threat
While climate change is causing more frequent and severe harmful impacts, multi-metre sea level rise would be irreversible and leave global civilisation ungovernable.4 The world's coastal cities and ports would be flooded, devastating high population areas, and international trade and finance.
In the past, Earth's climate alternated between ice ages and warm periods. Civilisation developed during the warm period known as the Holocene. The prior warm period is known as the Eemian, which lasted from 130,000 to 115,000 years ago.5 The best estimate of the maximum global surface temperature of the Eemian, relative to preindustrial time, is between +1℃ and +1.5℃ (+1.8℉ to +2.7℉).5 The global surface temperature averaged over 2009–2018 was +0.9℃ relative to preindustrial time, and +1℃ over 2014–2018.6 7 Therefore global warming will soon exceed the maximum temperature of the Eemian. We have left the safe temperature range of the Holocene and are about to leave that of Eemian.
During the Eemian, the seas were 6 to 9 metres (20 to 30 feet) higher than today, so rapid multi-metre sea level rise is expected if the global surface temperature isn't reduced. This would result from the collapse of Earth's ice sheets, of which there are three – the Greenland, West Antarctic and East Antarctic ice sheets. The principal question is then not how much sea level rise, but how fast?
Our CO2 emissions
The current global concentration of CO2 is over 410ppm.8 The last time Earth's atmosphere contained this was during the mid-Pliocene, 3 to 5 million years ago when the seas were 10 to 20 metres (33 to 66 feet) higher than today.9
Our CO2 emissions now solely determine the long term global surface temperature, are the only rapidly increasing greenhouse gas, and continue to grow with no peak in sight.10 Half of all CO2 ever emitted has been emitted in the last 40 years and almost all by the world's energy system.11 The most rapid increase of CO2 was caused during 2015, second fastest 2016, and 2018 tied with 1998 as the third fastest.12
Now in early 2019, 3 years after the Paris Agreement, 25 years since the UNFCCC came into force, 31 years since the formation of the IPCC, and 39 years since the first joint scientific meeting about atmospheric CO2, NOTHING has been achieved except to INCREASE CO2 emissions. CO2 emissions have increased by 91% since the first joint scientific meeting in 1980, and increased 61% since 1995 when COP1 took place!13 To make matters worse: (i) limiting warming to 1.5℃ (the goal of the Paris Agreement) is not safe, (ii) the scale of emission reductions prescribed are beyond any historic precedent,14 (iii) prescribed emission reductions depend on concurrent massive CO2 removal,15 (iv) the annual increase of CO2 emissions is near record rate,16 and (v) 1.5℃ is imminent.17
What to do?
Two prominent efforts have pursued solutions: the UN's climate treaty relying on the science of the IPCC, and the efforts of Dr James Hansen and colleagues. The most important finding of both is that it's too late for emission reductions alone, and now 'negative emission technologies' (NETs), also known as 'carbon dioxide removal' (CDR) methods, are also required. Negative emissions are the burden being handed to young people.18 19
To stabilise temperature, CO2 emissions need to be made net-zero as shown below. This can only be achieved by rapidly reducing CO2 (i.e. decarbonising) to the lowest level possible and by using negative emissions. The faster emissions are reduced, the smaller the negative emissions burden.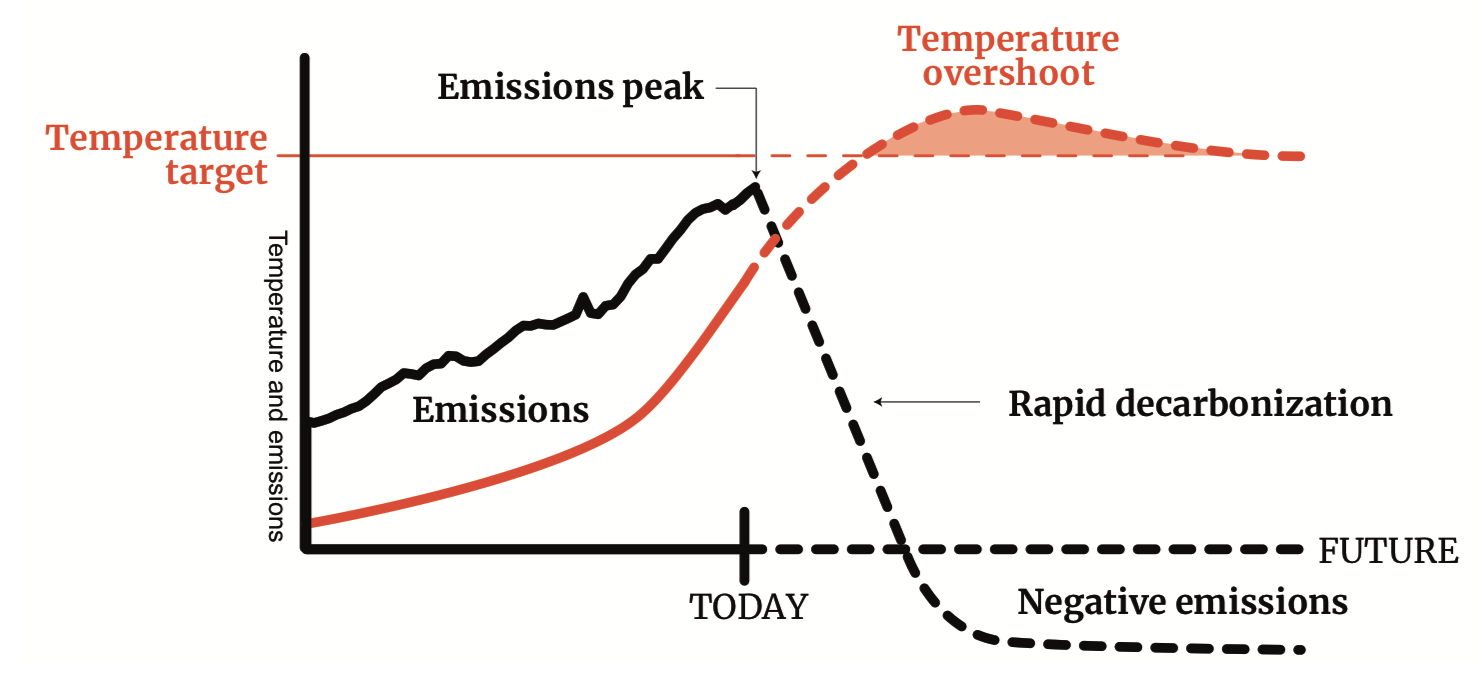 The IPCC's 1.5℃ scenarios demand that CO2 emissions are halved by 2030,21 and over the next 30 years negative-emissions are ramped up so that by 2050, an amount of CO2 will have been removed from the atmosphere equivalent to that removed by the world's ocean over a period of 15 years.22 By around 2050, this additional carbon-sink will need to be so vast that it will annually remove an amount of CO2 equivalent to that removed by the global ocean.23
The concept of a carbon-offset is a falsehood. Emission reductions prescribed for a safe climate are so steep that they are beyond historic precedent. But economies cannot be completely decarbonised, so countries will need to increase their natural carbon sinks to compensate, leaving no surplus to be used as carbon offsets. Another reason why carbon-offsets are a falsehood is that as we continue to delay adequate emission reductions, we become dependant on massive scales of carbon dioxide removal (CDR), despite that 'CDR deployed at scale is unproven, and reliance on such technology is a major risk in the ability to limit warming to 1.5°C'.24 Either we immediately cease the highly emitting activity that proposes to hide behind carbon-offsets in order to avoid being dependant on CDR, or we make inadequate progress and become dependant on CDR. Either way, there are no carbon-offsets available.
Hansen prescribes changes needed to reduce atmospheric CO2 to less than 350ppm, in order to limit global temperature close to the Holocene range of +1℃ maximum. CO2 emissions must be reduced by one third by 2030 and the negative emissions burden is the same as that prescribed by the IPCC above.25 Despite the emissions reduction being slower than that prescribed by the IPCC, Hansen's modelling results in warming being limited to less than +1°C, so preventing multi-metre sea level rise.
The posts on this site show that the world's energy system is almost 80% fossil fuelled and has been so for almost 30 years. Emission offsets are a lie to avoid adequate action now, and there is no time left for half-measures; "Winning slowly is the same as losing."26