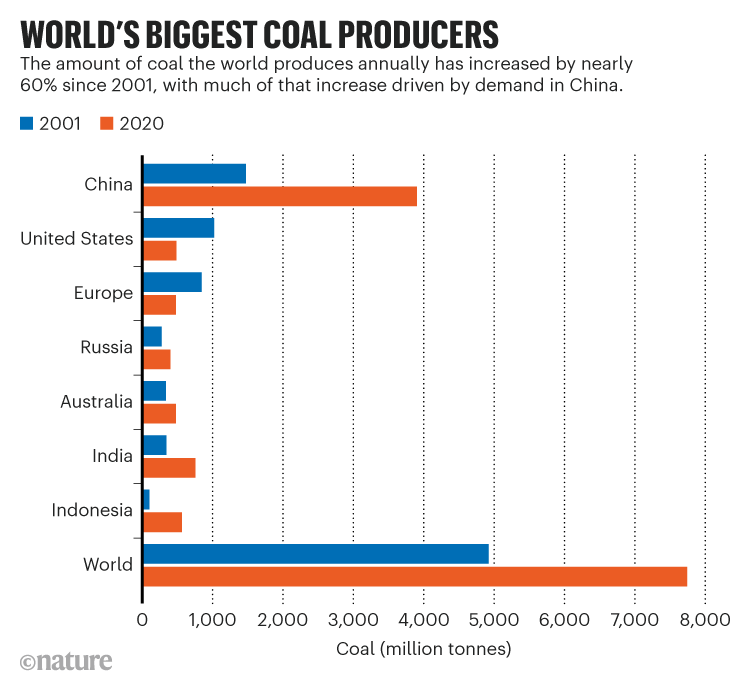 China's promise to stop financing coal power abroad is a positive step, but researchers say the emissions savings pale in comparison to those from its domestic coal use.
"China is a long way from phasing out coal altogether."
Despite the country's plans to become carbon neutral by 2060, its domestic coal production has nearly tripled since 2001. By contrast, the amount of coal produced in the United States and Europe has roughly halved over this time. China accounted for more than half of the 7.7 billion tonnes of coal produced globally in 2020, dwarfing the contributions of the next biggest producers.
China commissioned 38.4 GW of new coal plants last year, 76% of the global total of new coal-fired power plants, according to the non-profit organization Global Energy Monitor.
Experts say that halting the financing of overseas coal-power projects is a good start, but add that the emissions they produce are dwarfed by those generated by the 1,000 GW of coal-power that China generates domestically. This is more than four times the capacity of either India or the United States, which are the next biggest generators of coal power.
The almost 2,500 coal-power stations operating in the world today might still emit more than 200 billion tonnes of carbon dioxide over their lifetimes, making it hard to rein in global warming to 1.5 °C above pre-industrial temperatures.
"The 1.5 °C goal is out of reach if coal-fired plants aren't replaced by cleaner energy technologies very soon,"
"Alas, an end of coal is not yet in sight."