This page has not yet been updated with energy data from BP for year 2019, which was the most recent as of August 2020. The most recent year of data on this page is 2018.
The concepts presented here are explained in the post Energy Accounting.
CO₂ emissions
Primary energy supply
The share of supply of energy from coal in China has been about double that of the world, and oil about half, plausibly due to more economic emphasis on manufacturing than per capita consumption of goods and services. The share of fossil fuels increased from 75% in 1990 to 87% in 2010, and was 83% in 2017. While the world talked of decarbonisation, China carbonised. This is further demonstrated in chart 1 above. Although the share of fossil fuels has recently declined slightly, CO2 emissions in 2018 reached a record amount. This is because the supply of energy from fossil fuels and renewables both increased.
A measure of carbonisation is the carbon intensity of primary energy supply, shown below, which is the mass of carbon dioxide emitted per Joule of supplied energy. This shows China carbonised since 1990, to a level in 2017 27% greater than the world value.6
Energy consumption
In 2017, just over a third of energy was consumed as coal directly, a fifth as oil and a quarter as electricity. If China's energy system was transformed to 100% wind, water and solar, then the current share of electricity would be equivalent to almost 61%, as shown by the dashed green segment. Of the electricity generated, just over two thirds was coal fired, nearly a fifth hydro, and gas and nuclear about 3% each. Solar PV generated 2% and wind 4.4%.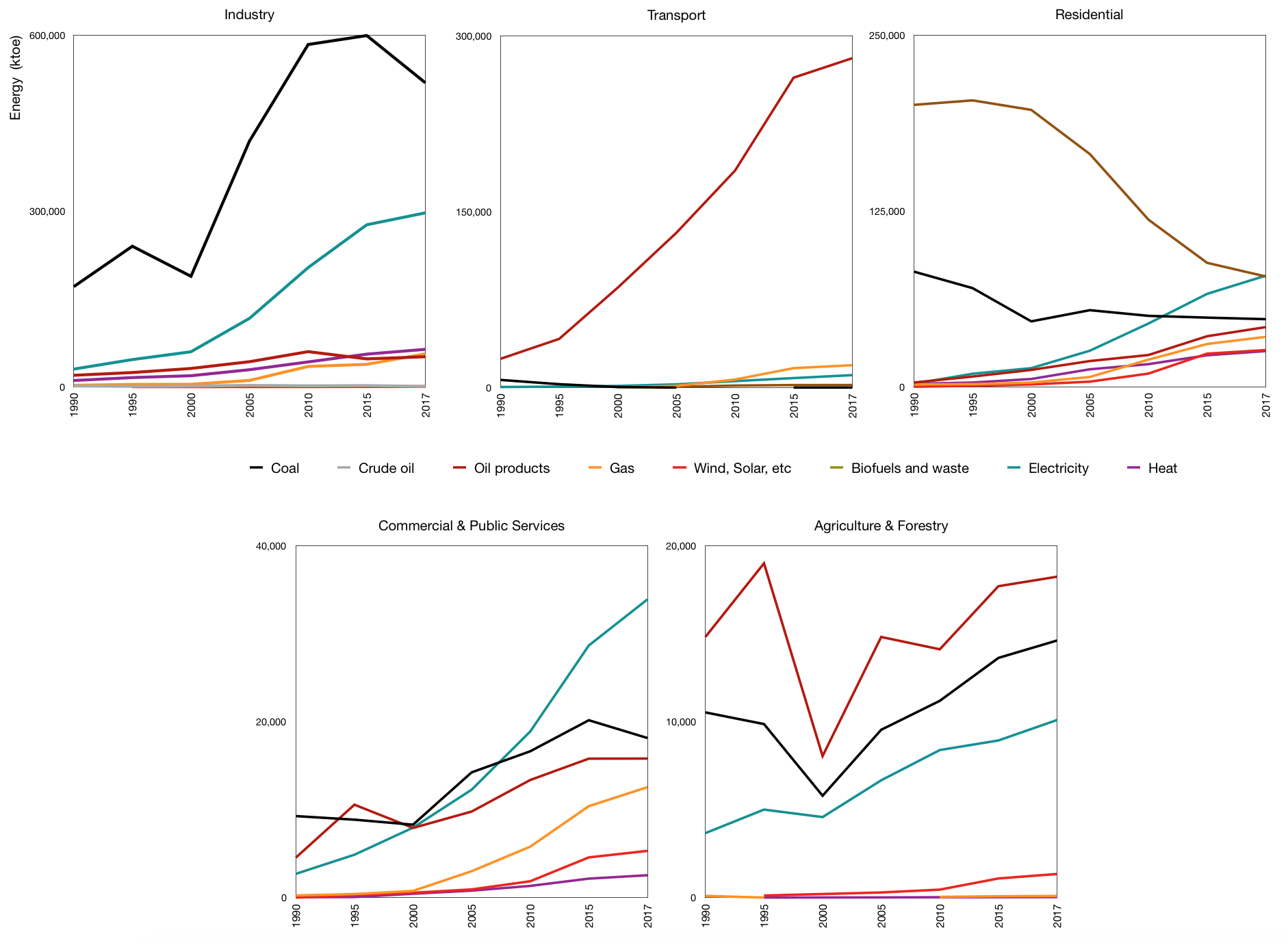 Note the: (i) the high coal consumption by industry, largely for the manufacture of steel; (ii) the dominance of oil in the transport sector; and (iii) the decline of biofuels for cooking and heating.
Regarding steel production, on average, per tonne of coal consumed, the same amount of CO2 is emitted by a steel mill and by a coal fired power station.10
Steel is an alloy based primarily on iron. As iron occurs only as iron oxides in the earth's crust, the ores must be converted, or 'reduced', using carbon. The primary source of this carbon is coking coal.

How is Steel Produced? World Coal Association.
China is the world's steel giant, accounting for half of the world's production and consumption. The next largest market is the EU at just 10%, which demonstrates just how much the Chinese market drives the global steel industry.

China continues to dominate global steel, March 2017.
Electricity
In 2019, China had more coal plants under construction than the rest of the world combined,12 and was funding 26% of those in construction outside China.13
China is set to add new coal-fired power plants equivalent to the EU's entire capacity, as the world's biggest energy consumer ignores global pressure to rein in carbon emissions in its bid to boost a slowing economy.

Last year China's net additions to its coal fleet were 25.5GW, while the rest of the world saw a net decline of 2.8GW as more plants were closed than were built.

The Financial Times, Nov 20 2019.12
Less detailed but more recent data is available from BP, and plotted in the charts below.
Chart 15 shows the changes of electricity generation between years 2017 and 2018. The increase in fossil fuelled electricity generation was twice that from hydro and renewables combined.21
Footnotes