China's energy system in 2017 was 83% fossil fuelled and its share of non-hydro renewables reached only 4% (2017 is the most recent year of free IEA data, and the only with sufficient detail to calculate this).
In 2018 fossil fuel additions continued to outpace renewables, and the addition to fossil fuelled electricity generation was twice that from hydro and renewables combined.
In 2019, China had more coal plants under construction than the rest of the world combined,1 and was funding 26% of those in construction outside China.2
China is set to add new coal-fired power plants equivalent to the EU's entire capacity, as the world's biggest energy consumer ignores global pressure to rein in carbon emissions in its bid to boost a slowing economy.

Last year China's net additions to its coal fleet were 25.5GW, while the rest of the world saw a net decline of 2.8GW as more plants were closed than were built.

The Financial Times, Nov 20 2019.1
This post discusses the topics energy supply, energy consumption and electricity. To learn about the differences between them, refer to Energy Accounting.
China's Energy Supply
China's energy supply is shown below in chart 1 and expanded in chart 2.
China's energy supply is dominated by coal, whereas at the world scale the supply of oil and coal are similar.7 As shown further below, this is due to the consumption of coal by China's industrial sector annually manufacturing half the world's steel8 and much of its goods. China simply became the world's factory, and exploited this opportunity for economic growth by the most economically efficient means possible; by combusting coal.
Annual changes of China's energy supply are shown in chart 3. Fossil fuels once again outpaced renewables in 2017 and 2018.
Charts 4 and 5 show China's energy supply by share.
Numerical values are shown below.
The share of supply of energy from coal in China has been about double that of the world, and oil about half, plausibly due to more economic emphasis on manufacturing than per capita consumption of goods and services. The share of energy supplied from biofuels and waste declined, perhaps due to lower residential consumption of biofuels for cooking and heating. Note the share of fossil fuels increased from 75% in 1990 to 87% in 2010, and was 83% in 2017. While the world talked of decarbonisation, China carbonised. This is further demonstrated in chart 1 above. Although the share of fossil fuels has recently declined slightly, CO2 emissions in 2018 reached a record amount. This is because the supply of energy from fossil fuels and renewables both increased.
China's annual territorial fossil fuel (i.e. energy related) CO2 emissions are shown below.
A measure of carbonisation is the carbon intensity of the energy supply, shown below, which is the mass of carbon dioxide emitted per Joule of energy supplied. This shows China carbonised since 1990, to a level in 2017 27% greater than the world value.11
China's Energy Consumption
As shown in figure 1 above, energy consumption describes energy after conversions. For example, some energy supplied by coal is converted and consumed as electricity, and the rest is instead combusted and consumed in industrial applications (e.g. steel manufacture) and domestic applications (e.g. cooking).
China's energy consumption for year 2017 is shown in chart 8 below. Just over a third of energy was consumed as coal directly, a fifth as oil and a quarter as electricity. If China's energy system was transformed to 100% wind, water and solar, then the current share of electricity would be equivalent to almost 61%, as shown by the dashed green segment. Of the electricity generated, just over two thirds was coal fired, nearly a fifth hydro, and gas and nuclear about 3% each. Solar PV generated 2% and wind 4.4%.
The following two charts below show China's energy consumption over time by energy source and by economic sector. Consumption of coal by China's industrial sector clearly dominates.
The following charts show energy consumption in each economic sector.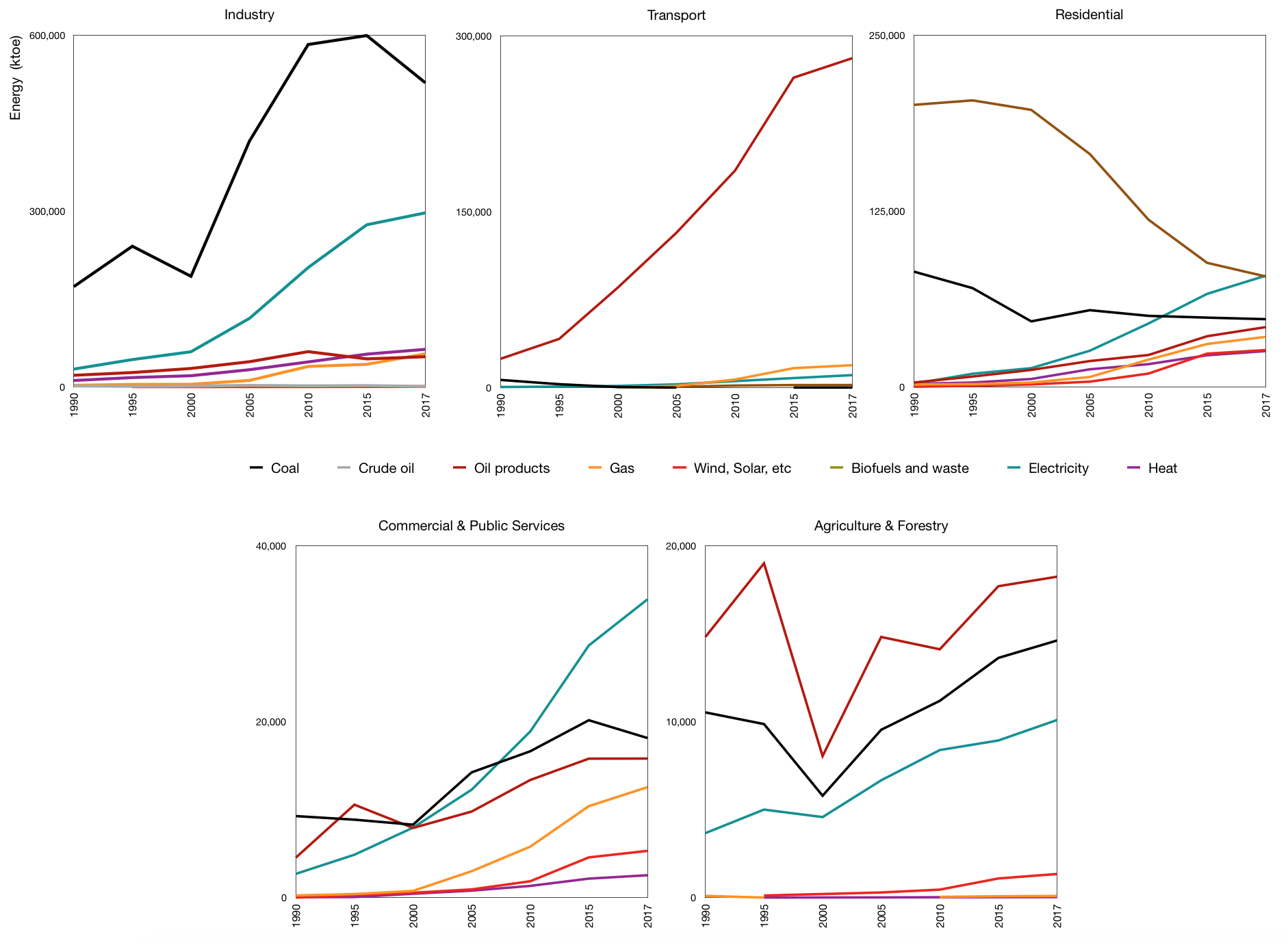 Note the: (i) the high coal consumption by industry, largely for the manufacture of steel; (ii) the dominance of oil in the transport sector; and (iii) the decline of biofuels for cooking and heating.
Regarding steel production, on average, per tonne of coal consumed, the same amount of CO2 is emitted by a steel mill and by a coal fired power station.18
Steel is an alloy based primarily on iron. As iron occurs only as iron oxides in the earth's crust, the ores must be converted, or 'reduced', using carbon. The primary source of this carbon is coking coal.

How is Steel Produced? World Coal Association.
China is the world's steel giant, accounting for half of the world's production and consumption. The next largest market is the EU at just 10%, which demonstrates just how much the Chinese market drives the global steel industry.

China continues to dominate global steel, March 2017.
Chart 11 shows electricity generation over time. Coal dominated and hydro's contribution grew to be significant. The remaining forms of generation were negligible.
The caption in the picture above states:
As the world's largest thermal power plant with a total installed capacity of 6,720 MW, Inner Mongolia Tuoketuo Power Generation Company insists on being synchronised with the power industry in innovation and upgrading, as well as high-efficient and clean development. It is committed to "bringing clean energy to Beijing and protecting the environment in Inner Mongolia". In 2017, the Phase V project of Tuoketuo Power Generation Company was recognised as the Elite Project of China Datang as the two units achieved ultra-low emissions soon as they went into operation with dust emission lower than national standards and reaching the leading level in China.

Datang International Power Generation Co., Ltd. Social Responsibility Report 2017.
Less detailed but more recent data is available from BP, and plotted in the charts below. Chart 12 shows shares of electricity generation in 2018.
Chart 13 and 14 compare electricity generation for years 2017 and 2018. Although BP classify hydro separately from renewables, it is of course also renewable.
Chart 15 shows the changes of electricity generation between years 2017 and 2018. The increase in fossil fuelled electricity generation was TWICE that from hydro and renewables combined.24
The configuration of China's energy system seems to have solely been a consequence of globally competitive economic priorities. That competitiveness was fuelled by an abundance of cheap labour and coal from domestic and overseas mines. Fossil fuels continue to dominate and outpace renewables.