Australia's energy system in 2017 was 89% fossil fuelled (2017 is the most recent year of free IEA data, and the only with sufficient detail to calculate this).
The share of fossil fuels in Australia's exports in 2018 was 24% of total value. This is detailed separately at Australia's Fossil Fuel Exports.
Roughly two thirds of domestic electricity generation will need to be replaced over the next 30 years, and Australian emissions continue to grow despite extensive death of the Great Barrier Reef and clear scientific projections of further devastation.
This post discusses the topics energy supply, energy consumption and electricity. To learn about the differences between them, refer to Energy Accounting.
Australia's Energy Supply
Australia's energy supply is shown below in chart 1 and expanded in chart 2.

Annual changes of Australia's energy supply are shown in chart 3. Fossil fuels again outpaced renewables in 2018.

Charts 4 and 5 show Australia's energy supply by share, which has consistently been about 90% fossil fuelled, and remained so in 2017 (the latest year of freely available data with sufficient detail, from the IEA. BP's data is inadequate). For comparison, the world reached a maximum of 79% during 2000 to 2010, since dropping to 77% in 2017.6
Numerical values below simply show little change.
Australia's fossil fuel (i.e energy related) CO2 emissions are shown in chart 6, showing an obvious spike in emissions from oil.
A measure of carbonisation is the carbon intensity of the energy supply, shown below, which is the mass of carbon dioxide emitted per Joule of energy supplied. Chart 7 shows that in 2017 Australia's energy supply was more carbon intensive ('dirtier') than China's,10 and the world.11
Australia's Energy Consumption
As shown in figure 1 above, energy consumption describes energy after conversions. For example, some energy supplied by coal is converted and consumed as electricity, and the rest is instead combusted and consumed in industrial applications (e.g. steel manufacture) and domestic applications (e.g. cooking).
Australia's energy consumption for year 2017 is shown below in chart 8. Just over half was consumed as oil and oil products, just over 20% as electricity and just under 20% as gas. Of the electricity generated, 63% was coal fired (almost as great a share as China at 68%), gas was 20%, wind 5% and solar PV 3%.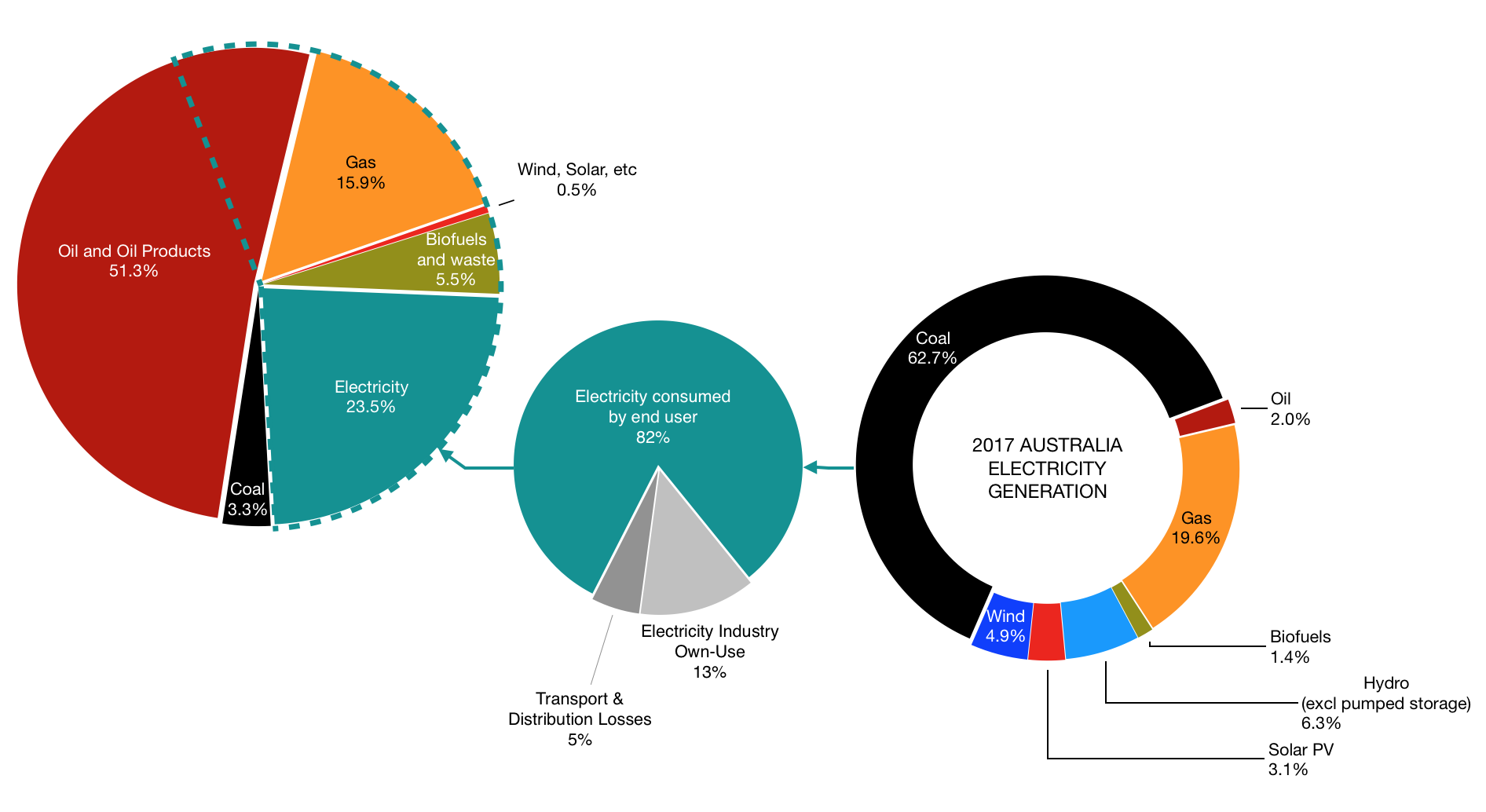 The following two charts below show Australia's energy consumption over time by energy source and by economic sector. Oil consumption by the transport sector is Australia's largest form of energy consumption.
The following charts show energy consumption in each economic sector.
Chart 11 shows electricity generation over time.
In 2016 Australia had 23 operating coal fired power stations, with a combined capacity of 25GW.19 20 Based on announced closures and the expectation of a 50 year operating life, as specified by Transgrid,21 all but Bluewaters 1 and 2 power stations in WA are expected to close prior to 2052 – that amounts to 98%22 of coal power generation capacity, which in 2017 was 63% of total electricity generation.19 20
Less detailed but more recent data is available from BP, and plotted in the charts below. Chart 12 shows shares of electricity generation in 2018.
Chart 13 and 14 compare electricity generation for years 2017 and 2018. Although BP classify hydro separately from renewables, it is also renewable, of course.
Chart 15 shows the changes of electricity generation between years 2017 and 2018. Australia's total electricity generation in 2017 was 259TWh, and therefore fossil fuels decreased by 3% of total (-8/259) and renewables increased by 3.9% (10/259).
Australia was founded on misery, as a penal colony,23 and successive Australian federal governments have conducted themselves in a miserable manner preventing the reduction of emissions, and not telling the truth to the Australian people. Future misery has been sown by Australia's fossil fuel exports, and the federal government is promoting more.